What is Post-Conviction Relief?
The post-conviction relief process is defined as the appeal of a criminal conviction where some form of relief or modification is put into place after a criminal conviction has been issued. Post-conviction includes the modification of a sentence, the declaration of a new trial, and release.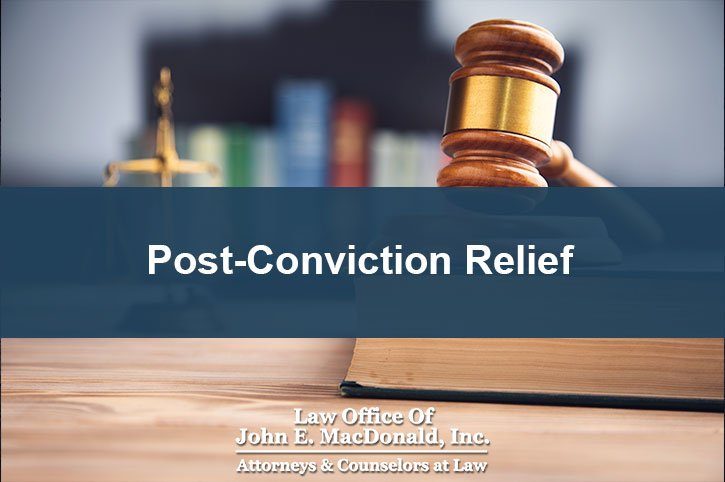 The post-conviction judgment must be justified and soundly upheld by the law. Courts have the authority to rearrange the orders and make amendments to the orders. In terms of retrials, release on security or surveillance, and re-arraignments the court can modify the original orders that were set.
Federal and state laws govern post-conviction relief. The laws pertaining to post-conviction may vary from state to state. Laws that challenge a judgment of conviction may be related to post-conviction relief. Securing legal counsel that is well-versed and experienced in this field is crucial to the outcome of each case.
Hiring an Experienced Attorney
Vacating criminal convictions or modifying sentences are vital legal services our attorneys provide to clients facing severe immigration or federal sentencing consequences.
The attorneys of the Law Office of John E. MacDonald, Inc. have argued to successfully vacate or modify a sentence throughout Rhode Island and Massachusetts.
The Law Office of John E. MacDonald, Inc. is the law firm where other immigration lawyers refer their clients to vacate pleas that are the basis of deportation and removal proceedings.
Case Results
Client Obtains U.S. Citizenship After Deportation

Attorney John E. MacDonald was retained by the client's family two years after his deportation to his native country. The basis of the deportation was an aggravated felony conviction, Third Degree Sex Assault. Attorney MacDonald filed post-conviction relief based upon defects in the plea colloquy and successfully vacated the conviction and dismissed the charge. Attorney MacDonald then worked with Attorney Elisha Morris to successfully counsel the client back into the United States as a lawful permanent resident based upon his marriage to a U.S. citizen. Three years later, the client's application for U.S. citizenship was granted.
Frequently Asked Questions
There's no question that facing a significant criminal conviction and sentence can be scary for anyone, but this is especially true if you're in the midst of attempting to secure your U.S citizenship.
Learning more about the process can help you understand that you do have options and a post-conviction attorney with experience can assist you. Below you'll find some frequently asked questions that clients often have about post-conviction.
How Much Does Post-Conviction Relief Cost?
The cost to obtain post-conviction relief will vary from case to case. It depends on a number of different factors, such as the time it takes to investigate a case and how many criminal convictions a defendant is facing. However, we want our clients, especially those seeking citizenship, to understand the value of our experience.
When you get positive results, such as a modified sentence or an option to successfully vacate a criminal conviction, most clients consider this type of legal counsel to be well worth the cost, especially if you're at risk of deportation and you wish to keep your family together. To learn more about how much it will cost to hire an experienced post-conviction lawyer to help you, contact our law firm today to discuss your case.
What is the Most Common Reason to Seek Post-Conviction Relief?
There are several reasons why a defendant will seek post-conviction relief. One of the most common reasons why it's highly recommended to file a post-conviction relief petition that the defendant did not truly understand the extent of their charges, their sentence, or the consequences of pleading guilty and accepting a plea deal.
Another common reason why a defendant might seek to vacate a criminal conviction or have their sentence modified is that they received inadequate counsel at their initial trial or sentencing. There are other reasons why it's important to seek post-conviction release, but these are some of the most common.
If you feel as though your case qualifies for post-conviction relief, call our law firm as soon as possible to speak with an attorney.
What's the Difference Between an Appeal and Post-Conviction Relief?
There are a few key differences between an appeal and post-conviction relief. First, to file an appeal, there's typically a deadline that's set in place.
In Rhode Island, your attorney must file a notice of appeal within 10 days of your sentencing, while a post-conviction relief petition can be filed a year or two years later (deadlines will differ).
In addition, in an appeal process, you're only relying on the original transcripts and recordings from the initial trial. No new evidence can be presented in an appellate hearing. However, you can present new evidence in a post-conviction relief trial.
How Do I Know If I'm Eligible for Post-Conviction Relief?
The process of determining eligibility and filing a petition for post-conviction relief can be a complicated process. Your lawyer will need to conduct a full investigation into your case, the court transcripts, and court recordings from your original trial to help you determine if you meet the criteria to be granted the opportunity to vacate your criminal conviction or to have your sentence modified.
Before you begin the application process for post-conviction relief, it's important to meet with an experienced post-conviction lawyer first. Contact our law firm to learn more about eligibility.
Who should retain an Attorney for Removal/Deportation?
If you are an alien who is seeking to naturalize, adjust your status, has overstayed, has a criminal conviction, is in B.C.I.S. removal/deportation or criminal court proceedings, then you should retain an attorney who is competent to practice in both the criminal and immigration courts. We focus on making immigration concerns a primary strategic focus in connected criminal or domestic relations matters and have successfully disposed of cases where a simple guilty plea would have led to deportation proceedings.
We can also assist in cases where clients did not have adequate prior counsel and we have argued numerous post-conviction motions and prevented removal proceedings for the benefit of our clients and their families. Withholding of removal and cancellation of removal for our clients is our goal and we aggressively and successfully have achieved these results for our clients.